Presenter: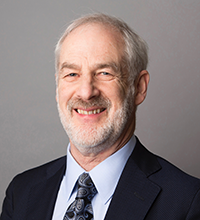 Dr. David K. Conn, MB, FRCPC
Dr. David Conn is the Executive Vice-President of Education and Chief Academic Officer at the Baycrest Academy for Research & Education. He is a Professor in the Department of Psychiatry, University of Toronto and is a Geriatric Psychiatrist at Baycrest. David is founding Co-Chair of the Canadian Coalition for Seniors' Mental Health and Past President of the Canadian Academy of Geriatric Psychiatry.  
He has received numerous awards including the Canadian Academy of Geriatric Psychiatry Award for Outstanding Contributions to Geriatric Psychiatry in Canada and a Distinguished Service Award from the International Psychogeriatric Association. Dr. Conn was the principal investigator for a recent project funded by Health Canada to develop Canadian Guidelines for 4 Substance Use Disorders among older adults (alcohol, benzodiazepines, cannabis and opioids) and led the 2021 Guideline Update of the Canadian Guidelines on Prevention, Assessment and Treatment of Depression Among Older Adults.
Learning Objectives:
By the end of the presentation participants will:
Be able to describe possible approaches to the prevention of depression in older adults.
Consider utilizing updated recommendations regarding the treatment of depression in their practice.
Be aware of some promising new treatment approaches for depression.


Presenter Evaluation:
Complete your anonymous presenter evaluation.
Accreditation Statement:
GeriMedRisk- Geriatric Clinical Pharmacology Rounds is a self-approved group learning activity (Section 1) as defined by the Maintenance of Certification program of The Royal College of Physicians and Surgeons of Canada.
Frequently Asked Questions 
Do you share GeriMedRisk rounds presentation slides or archive presentation recordings? 
We do not share presentation slides or archive presentation recordings. Our presenters are renowned and offer their expertise at no cost. We also believe in ensuring that our education and resources are current, scientifically based and reflective of best practices. Due to the risk of material from our rounds presentations being altered or incorrectly interpreted, we are unable to attach or forward the presentation slide deck.   
With presenter permission, we host an evening replay session of the recorded rounds presentation. If a replay is being offered, it will be posted on this page.  
Can I join your mailing list to receive monthly educational updates? 
Yes, please visit: https://www.gerimedrisk.com/mailing-list.htm